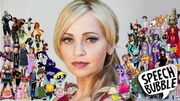 Tara Strong is a the voices of Belle "248", Angel "624",Dupe "344", BeBe & CeCe Proud and Puff the Dog.
Now, from the current character is Maguro from Sushi Pack Series, Daisy from Wow! Wow! Wubbzy! and Tawna Bandicoot from Crash Bandicoot video game series is the other character and the upcoming movie Crash Bandicoot: The Movie is the main character from Universal Pictures and Radical Entertainment.
Tara Strong is a guest singer. She songs "Angel's Song" with the music composed and conducted by Alan Silvestri and Michael Tavera.
She is also known for her works on Rugrats, Samurai Jack, The PowerPuff Girls, Extreme Ghostbusters, Family Guy, Detention, Pokemon, Digimon, Ranma 1/2, CardCaptors, Inuyasha, Sailor Moon, Hamtaro, Tama and Friends, Urusei Yatsura, PowerPuff Girls Z, Mon Colle Knights, Hello Kitty's Furry Tale Theater, The New Batman Adventures, Teen Titans, The Fairly OddParents, Ben 10 and My Little Pony: Friendship is Magic just to name a few.
She is still the voice of Angel, Belle and Babyfier on "Stitch and Experiments"