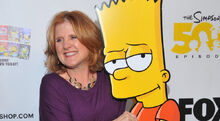 Nancy Cartwright is the guest star the voice of Shortstuff (Bigstuff), Phantasmo and Rufus
She is more famously known as the voice of Bart Simpson on FOX's long-running animated sitcom "The Simpsons" Aside from Bart she does Ralph Wiggum, Nelson Muntz, Kearney, Todd Flanders and Databse.
She has also done other voices including Rockna from Mon Colle Knights, Margo Sherman from The Critic, Chuckie Finster for the remainder of Rugrats and the entirety of All Grown Up, Tsubasa Kurenai from Ranma 1/2, Ten from Urusei Yatsura, Kentaro from Maison Ikkoku, Mindy from Animaniacs, Todd Daring from The Replacements, Oxnard from Hamtaro, Lu from Mike Lu and Og, Pistol from Goof Troop, Mocchi from Monster Rancher, Tommy Himi from Digimon Frontier, Sailor Venus from Sailor Moon, Pimmy from Tama and Friends and Max from Pokemon.
She currently voices Shortstuff, Boomer, Howcome and Elena on "Stitch and Experiments"
Community content is available under
CC-BY-SA
unless otherwise noted.