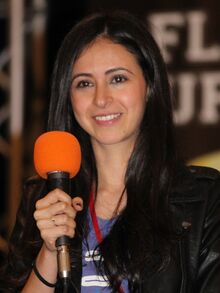 Jessica DiCicco (born June 10 1980) is an American voice actress who has voiced several characters including Maggie Peskyfly on "The Buzz on Maggie", Malina from "The Emperor's New School", Lexi Bunny from "Loonatics Unleashed", Georgia from "Pokemon Black and White", Flame Princess from "Adventure Time", Tambry from "Gravity Falls", Akane Tendo from the Ranma 1/2 OVA "Deep Sleep Incense", Lynn and Lucy Loud on "The Loud House" and Sweater Girl on "Tokyo Pig".
She has also done additional voices on Ranma 1/2, Digimon, Hamtaro, Inuyasha, CardCaptor Sakura and others.
She is now the voice of Spats, Jam and Victoria Deja on Stitch and Experiments.
Community content is available under
CC-BY-SA
unless otherwise noted.