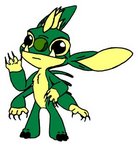 A green, skinny
Stitch
look-alike with a spiky yellow Mohawk and two prominent fangs jutting from his lower jaw. He has all of Stitch's powers and is jealous of all the attention Stitch gets. In the Playstation 2 game
Disney's Stitch: Experiment 626
, he steals the DNA that Stitch collects for Jumba, mutating into a stronger form. The plot of this game has since been retconned from canon continuity due to the events depicting Stitch being apprehended immediately after his creation in
Lilo & Stitch 2: Stitch Has a Glitch
. However, 621 could still have the same physical appearance and personality. He is both very physical and well-equipped. His weapons include Jet-Pack, Grapple-Gun, rocket-launching Big Gun, and Freeze Gun. He also has the strange ability to mutate when power is charged at most extreme. He also dresses in a brown uniform. He is voiced by Frank Welker.
He is also on "Stitch and Experiments" where he lives with Stitch and the other cousins despite his jealousy and hangs out with Evile from time to time. He is voiced by Chris Sanders who voiced Stitch himself. Other actors who auditioned included Tom Cruise, Brad Pitt, Christian Slater, Matt Damon, Leonardo DiCaprio and Johnny Depp.
Community content is available under
CC-BY-SA
unless otherwise noted.